Delicious Couscous!
Couscous is the national dish of Morocco. The name applies to both the grain (a type of semolina) and to the whole, garnished dish, which can be infinitely variable.
By tradition it is a Friday lunch meal – to use up the vegetables which are left in the kitchen at the end of the week. It is also a festive dish, served at the end of a banquet.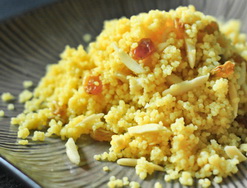 The grain is heaped up into a mountain in a large round shallow dish. A depression is made in the top of the pile of grain and filled with pieces of meat or chicken and vegetables, which spill down the sides. Alternatively it is dressed with almonds or raisins and the stew is served in a separate dish.
You will find that the grain you can buy is pre-cooked and only needs some water added to it, before heating through and serving.
Serves 5 - 6:

500 g (1 lb) pre-cooked couscous
a little less than 0.6 litres (1 pint) of lightly salted water
2 tablespoons of sunflower oil
1 – 2 tablespoons of butter
Put the pre-cooked grain into a large bowl and add about half the salted water. Stir well and leave for 10 minutes. Add the rest of the water and the oil. Rub the grains between your palms and make sure there are no lumps.
After about 10 minutes the grains should be swollen, tender and separate. Then steam it, uncovered, over boiling water or a bubbling stew. When the steam starts to penetrate the grain and come through, it is ready to serve.
If you prefer you can cover the swollen grain and put in a pre-heated, hot oven until heated through.
Transfer to a shallow serving dish and stir in the butter.