Senior Chair Exercise
Chair Yoga, Exercise In A Chair, Chair Exercises For Seniors
Easy Senior Chair Exercise is NOT just for the elderly! This is for you if for any reason you can't get down on the mat. Low-impact, safe and gentle chair yoga exercises, postures and breathing techniques will improve your quality of life no matter how old you are.

With so many types of Yoga available, here is one that most of us can practice. Inversions and complicated maneuvers are not necessary in a Chair Yoga class. Easier still, with these stretch-chairyoga for beginner, advanced beginner and intermediate DVDs you can do this in the comfort of your own home, in your favorite chair!

All it takes is the motivation to get started! Most exercise in chair classes don't use a Yoga mat, but the main prop used is a sturdy chair. This helps with balancing poses, and most common Yoga postures can be modified for the chair.
Some exercise in a chair yoga classes use both chairs and Yoga mats. Within this type of Yoga class, you can cover standing, seated, supine, and prone postures. Most classes use the chair only, due to the difficulty of getting up, or down, on the floor.
Senior chair exercise yoga sessions are most commonly seen in senior citizen centers, assisted living complexes, nursing homes, adult day care centers, and physical rehabilitation units. Clients can learn any number of Yoga postures, breathing techniques, meditation, and stage-by-stage relaxation, with the aid of a chair.
Standing postures, such as Triangle and Warrior variations, can be practiced seated, or standing, with the aid of a chair. You can practice Sun Salutations or Vinyasa, (flowing postures), from seated or standing positions. Yes, even ab strengthening exercises can be done in a chair!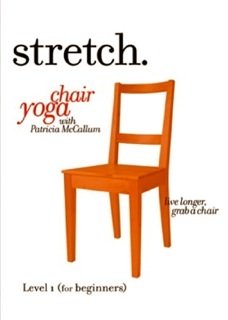 Best chair yoga dvd for beginner
All the benefits of traditional yoga can be attained. Flexibility, balance, circulation and energy levels will be improved as well as relief from hypertension, anxiety, chronic fatigue syndrome, arthritis chronic pain on limbs and joints etc.
Contrary to popular opinion, Chair Yoga lessons are activities not only for seniors or the elderly. Most of us take our good health and physical fitness for granted. The physically handicapped have no age boundaries,, and they are very enthusiastic students.



Due to trauma, or a debilitating disease, at any time, any one of us could become physically handicapped. Most of us drive cars every day, and there is always a risk of an auto accident.
Some younger family members of seniors, and the physically handicapped, get involved in classes and private sessions. When family members participate in a class, or private session, it is always a good quality time for everyone.
The defining characteristic of Chair Yoga would be its gentle approach. This form of yoga is practiced whilst seated in a chair or the chair may be used as a prop for support, whilst standing.
It does not have any recognition as a distinct or unique school of yoga, like other disciplines such as Sivananda, Kundalini, or Bikram Yoga, but its practices comprise of poses or asanas that are generally adaptations of poses from Hatha Yoga. There are numerous schools of yoga in existence today, some credible, some that are not, but most of them no matter how beneficial, can not be practiced universally.
This form of yoga is extremely accessible, as the practice does not call for performing complicated and strenuous maneuvers or inversions. The use of a chair as a yoga prop is particularly helpful for balancing poses, and its use can also be implemented in many other poses.
Determination and motivation are all that are needed from the practitioner.
One of the major facilities in this exercise program is that you can do it in your office, in an airplane, in your home or where ever you can find a few minutes and a chair!
Get Started Today! Order Now...
Anti Aging Secrets Of Yoga

Check out these diets...

Return From Senior Chair Exercise to
Anti Aging Information Homepage