Escalivada Spanish Salad
Escalivada is a delicious Spanish dish, which can be eaten hot or cold. It makes a lovely summer salad and is often served with a little salt cod or tuna fish.
Please be aware that while these recipes are healthy ones, they are not calorie-free! Eat everything in moderation!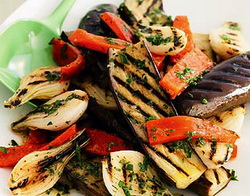 Spanish Roast Vegetable Salad
Serves 6:

300 g (10 oz)medium onions
300 g (10 oz) green peppers
300 g (10 oz) red peppers
300 g (10 oz) aubergines (eggplant)
75 ml (3 fl oz) olive oil
salt
Pre-heat the oven to 180 degrees C or 350 F.
Bake all the vegetables, whole and with their skins still on, until they are very soft and the skins are brown. This will take about an hour.
Put the peppers in a polythene bag and close it tight for about ten minutes. This will loosen the skin.
When all the vegetables are cool enough to handle, remove the skins. Then cut them into long strips. Pour over the olive oil and mix, adding a little salt.
Serve cold.