Getting Old Jokes
Hilarious Short Quotes, Funny Life Quotes
Did you hear about the 83 year old woman who talked herself out of a speeding ticket by telling the young officer that she had to get there before she forgot where she was going? More getting old jokes below...
You don't remember being absent minded
I'm getting so old that my friends in heaven will think I didn't make it.
Your little black book only contains names ending in M.D.
Your secrets are safe with your friends because they can't remember them either.
I used to hate weddings, all the old ladies would prod me and say 'you'll be next !' They soon stopped that, when I started saying it to them at funerals!
You finally got your head together, now your body is falling apart.
You find yourself beginning to like accordion music.
You're sitting on a park bench and a Boy Scout comes up and helps you cross your legs.
At cafeterias, you complain that the jello is too tough.
One of the throw pillows on your bed is a hot-water bottle.
It takes a couple of tries to get over a speed bump.
You notice that you are using words like "whippersnapper","scalawag" and "by-cracky".
Your social security number only has three digits.
If God wanted me to touch my toes, He would have put them on my knees.
The waiter ask how you'd like your steak and you reply,"Pureed."
At parties you attend, the prime topic of choice is "regularity."
At the breakfast table you hear "snap, crackle, pop" and you're not eating cereal.
You realize that a stamp costs more than movie (picture show) did when you were a kid.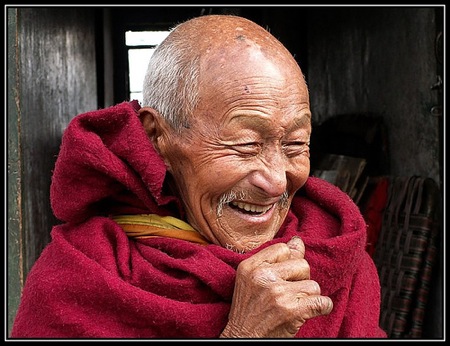 Old monk laughing at getting old jokes...


More Getting Old Jokes...


When did my wild oats turn to prunes and All Bran?
You are proud of your lawn mower.
Happy hour is a nap.
When your doctor doesn't give you x-rays anymore but just holds you up to the light.
You think the Weather channel's just the neatest thing.
It takes longer to rest than it did to get tired
You light the candles on your birthday cake, and a group of campers form a circle and start singing "Kumbaya."
Your childhood toys are now in a museum.
Your joints are more accurate than the National Weather Service.
You have a party and the neighbors don't even realize it.
Lawn care has become a big thing in your life.
You find your self singing along with elevator music.
You're on a game show and decide to risk it all and go for the rocker.
You believe that 8 miles a hour is fast enough for anyone to drive.
People no longer view you as a hypochondriac.
You refer to your child's new $2500 stereo system as "the record player."
Your supply of brain cells is finally down to a manageable size.


---
A couple in their nineties were having trouble remembering things so they went to their doctor for checkups. The doctor told them that they were both physically fine and advised them to write things down to help them remember.
Later that evening while watching television, the husband got up from his chair to go to the kitchen for a snack. He asked his wife if she wanted anything.
"Could you bring me a bowl of ice cream?" she asked. "Sure," he replied. "Do you think you should write that down to remember it?" she asked. "No, I can remember that," he said.
"I'd like some strawberries on it, too. Do you need to write that down?" she said. "No, I can remember that, too. Ice cream with strawberries," he said, becoming a little irritated.
"I'd like some whipped cream on it, too. Can you remember all that? The doctor said you should write things down," she said. "For goodness sakes, I can remember that. I don't need to write it down. A bowl of ice cream with strawberries and whipped cream," he said, now more than a little irritated.
Off he went to the kitchen. About 20 minutes later he returned with a plate of bacon and eggs. The wife stared at it for a moment and said, "Where's my toast?"





At 85 years of age, Roger married Jenny, a lovely 25 year old..
 Since her new husband is so old, Jenny decides that after their
 wedding, she and Roger should have separate bedrooms, because she is concerned that her new but aged husband may overexert himself if they spend the entire night together.


After the wedding festivities Jenny prepares herself for bed and the 
expected knock on the door. Sure enough the knock comes, the door 
opens and there is Roger, her 85 year old groom, ready for action. They unite as one. All goes well, Roger takes leave of his bride, and she prepares to go to sleep.
After a few minutes, Jenny hears another knock on her bedroom door, and it's Roger, Again he is ready for more 'action'. Somewhat surprised, Jenny consents for more coupling. When the newly weds are done, Roger kisses his bride, bids her a fond good night and leaves.
She is set to go to sleep again, but, aha you guessed it - Roger Is back again, rapping on the door, and is as fresh as a 25-year-old, ready for more 'action'. And, once more they enjoy each other.
But as Roger gets set to leave again, his young bride says to him, 'I am thoroughly impressed that at your age you can perform so well and so often. I have been with guys less than a third of your age who were only good once. You are truly a great lover, Roger. Roger, somewhat embarrassed, turns to Jenny and says: 'You mean I was here already?'


The moral of the story:
 Don't be afraid of getting old, Alzheimer's has its advantages.
Hope you enjoyed these getting old jokes!


Share Your Own Favorites
We hope that you have enjoyed our look at how "getting old" is humorised across various media.

Do you have favorite quotes or quips of your own?, we would love to hear from you & will publish the very best ones along with our own.
Quotes & Quips by Other Visitors
Click below to see what other visitors have added:



getting old Not rated yet
I'm 75 people tell me i look good for my age, I'd rather be 40 and look lousy.
Silly Getting Old Joke! Not rated yet
Knock Knock. Who's there? Um...I forget. (sorry, this is my from my 8 year old grandson, he thinks it's hysterical)
Try Easy Chair Yoga At Home!

Try The 10 Day Master Cleanse

Return to Anti Aging Solutions

Return from Getting Old Jokes to Anti Aging Information Homepage