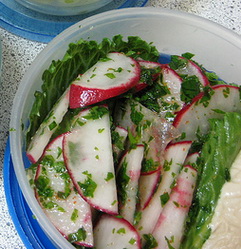 Courtesy of 'mfukum' @ flickr.com
Tunisian Radish Salad
Slatit Fzill or Tunisian Radish Salad as it is better known is a Mediterranean appetizer, or simple salad, from Tunisia.

The radishes grown in Tunisia are typically a little spicier than those grown in Europe, and this salad dish is a firm favorite throughout the country.

It is easy to make with a strong flavour. It is served in Tunisian homes and goes well with the carrot and potato appetiser, ajlouke de carottes.

Serves 6:
a large bunch of radishes
juice of half a lemon
salt
2 tablespoons of olive oil
a pinch of cayenne pepper
a few sprigs of parsley, finely chopped
Top, tail and chop the radishes coarsely.
Simply mix all the ingredients together just before serving on a simple bed of cabbage leaves.



Custom Search
Visit Anti Aging Recipes




Visit Mediterranean Diet




Visit Anti Aging Nutrition




Return from Slatit Fzill to Anti Aging Information - Homepage