Turkish Leeks in egg and lemon sauce
Terbiyeli pirasa is a Turkish culinary signature dish who's main ingredient is leeks, the dish is one of the "olive oil foods", due to it being an amalgamation of both Turkish & Greek cuisine & because it is prepared using liberal amounts of olive oil!.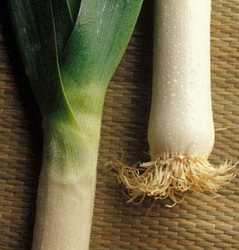 The egg and lemon sauce once given a touch of sugar, gives it a slight sweet-and-sour taste. I enjoy making this dish, which can be served either hot or cold, ideally with baby leeks, but larger ones can be used instead.
It gets a delicate sweet and sour flavor from a little sugar (you don't have to add this if you are trying to reduce your sugar intake) and an egg and lemon sauce.
Serves 4:
1 kg (2 lb) small leeks
75 ml (3 fl oz) olive oil
a tablespoon of sugar (optional)
salt to taste
2 eggs
the juice of a large lemon
Trim the leeks and wash well, slitting them if necessary to remove any earth between the leaves.
Put them in a saucepan with the oil, sugar if using, a little salt and enough water to just cover. Bring to the boil and simmer until tender. Don't over cook – they should be al dente. Lift them out with a slotted spoon and put on a serving plate.
Reserve the cooking liquid.
Beat the eggs and lemon juice with about 3 tablespoons of the cooking liquid and pour into a small pan. Cook over a very low heat, stirring all the time, until the mixture thickens. Be careful not to let it curdle. Add seasoning and more sugar if you want the sauce to be sweeter.
Pour the sauce over the leeks and let them cool before serving.
Terbiyeli pirasa is a simple dish to make, and a really lovely dish to enjoy, try it out & let us know how you get on!.



Unique tips on how to lose stomach fat.



Visit Anti Aging Recipes




Visit Mediterranean Diet



Return from Terbiyeli Pirasa to Anti Aging Information - Homepage