Dutch Apple Pie Recipe
Easy Apple Pie Recipe,
How To Make The Best Apple Pie
Yummy dutch apple pie recipe! Treat your friends and family to a delicious dessert. Follow these easy instructions to learn how to make the best apple pie. Learn more about apple nutrition here.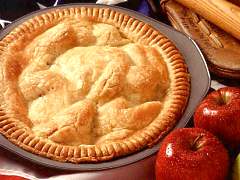 Ingredients:

*Ready made shortcrust pastry for 9 inch pie dish
*8 green apples
*2 tbsp lemon juice
*2 tbsp cornstarch
*2 tbsp sugar
*1/3 tsp cinnamon
*A pinch of nutmeg


For toppings:

*1/2 cup brown sugar
*1/2 cup flour
*1/2 cup chopped walnuts
*1/2 cup cold butter, diced
*1/2 tsp cinnamon
*A pinch of nutmeg
*A pinch of salt


Directions:

Preheat the oven to 350 F.
Layer the pie dish with the shortcrust pastry
Slice the apples thinly.
Mix the sugar, cornstarch, lemon juice, cinnamon, and nutmeg.
Add the sliced apples and toss to mix.
Carefully layer the sliced apples on the pastry.
With a food processor, mix all the ingredients for the topping. Use pulse action until the mixture resembles coarse crumbs, about 30 seconds.
Layer the topping on the apples until the topping cover all the pie.
Bake for about 30 minutes until the topping is golden and crumbly.

Enjoy your yummy dutch apple pie!



Nutrition Facts About Apples

Facts About Oranges

Return To Anti Aging Recipes

Return From Dutch Apple Pie Recipe To Anti Aging Information Homepage